Cosmetic Surgeon Columbus Ohio
Dr. Casey Kraft has always had a passion for medicine and his patients, and he trained at well-regarded academic institutions to achieve his goals. He received his undergraduate degree from the University of Notre Dame, graduating magna cum laude in science preprofessional (premedical) studies. While at Notre Dame, he was one of only 100 students selected to be a member of the prestigious Glynn Family Honors Program. He continued his training at the University of Michigan Medical School, which is consistently ranked as one of the premier medical schools in the United States by U.S. News & World Report. He ultimately graduated from the University of Michigan with distinction.
Dr. Kraft completed his integrated plastic surgery residency working with experts in the field at The Ohio State University, which is widely regarded as one of the top plastic surgery training programs in the country. After finishing his residency, Dr. Kraft completed an aesthetic surgery fellowship in the Netherlands, where he learned cutting-edge aesthetic surgery techniques from European masters of plastic surgery. Having trained extensively with leaders in plastic surgery both in the United States and abroad, he hopes to bring his skillset to Columbus and offer cutting-edge surgical care to all of his patients.
Dr. Kraft is widely recognized for his contributions to the field of plastic surgery, having presented his work both nationally and internationally. He has published over 40 scientific articles and 6 book chapters on a variety of topics within plastic surgery, focusing primarily on aesthetic surgery. He also serves as a reviewer for multiple plastic surgery journals.
In his free time, Dr. Kraft enjoys traveling, distance running, and spending time with his wife and daughter.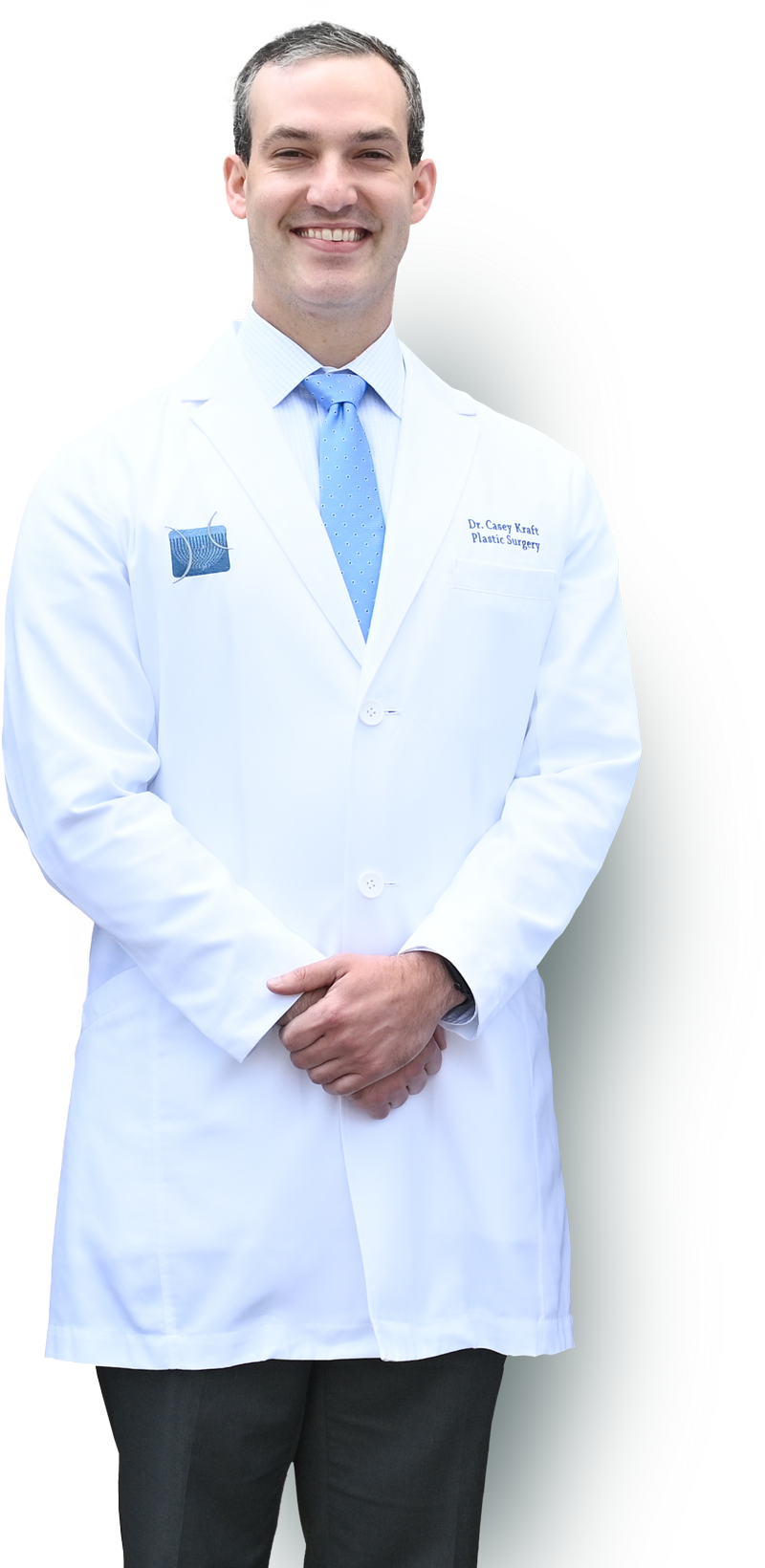 Schedule your consultation with Columbus Cosmetic and meet Dr. Kraft by calling (614) 890-5565, or send us a question through our Contact page. We look forward to hearing your story and learning about the changes you want for your body and your life.
Dr. Kraft's recent Honors & Awards include:
2019 | Resident ambassador to the editorial board (Plastic & Reconstructive Surgery Journal)
2017 | Peer reviewer (PRS, PRS Global Open, Annals of Plastic Surgery, Aesthetic Surgery Journal)
2016 | American Burn Association Student Scholarship Award (American Burn Association)
2016 | Graduated with Distinction in Research (University of Michigan)
2013 | Student Biomedical Research Excellence Award (University of Michigan)
2012 | Glynn Family Honors Program (University of Notre Dame)
2012 | Graduated magna cum laude (University of Notre Dame)
2012 | Honors thesis in organic chemistry (University of Notre Dame)
CCTS Core Voucher Award for Research Development
CCTS Core Voucher Awards for Prototype Development (Ohio State University)