Have you ever wished that you could turn back time? Have you found yourself examining new wrinkles or lamenting sagging skin around your neck, wondering how to make your face lift? You're not alone; it happens to all of us, men and women alike!
Eventually our faces lose the fight with gravity and, before we know it, our cheeks and the tissues around and below our jaw have lost elasticity. Your skin ages as you do, especially in the neck and middle and lower areas of your face. But, you don't have to sit by and watch it happen.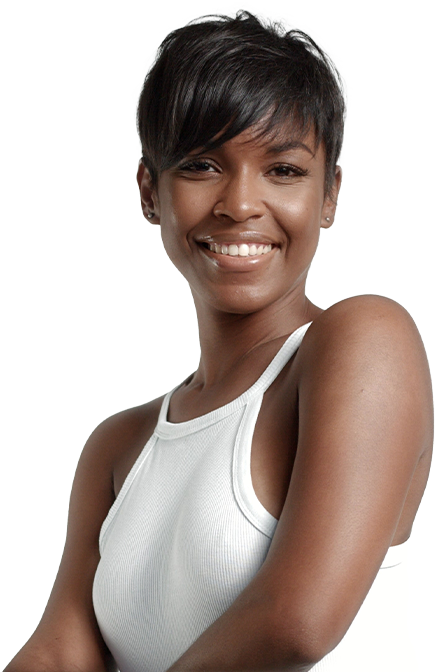 A Facelift By Design
Men and women from Columbus, greater Ohio, and beyond visit Columbus Cosmetic for results that are subtle, yet remarkable. One of the top three requested procedures at our office is the facelift surgery (rhytidectomy), which is perfect for getting rid of excess skin on your face and neck and raising and tightening all the right areas for a refreshed, rejuvenated face.
What really happens during a facelift?
The primary objectives of a facelift are to reposition the facial muscles and tissues for a more youthful look, as well as to remove unnecessary skin and fat that are contributing to jowls and wrinkles in the face and neck. For most patients, the results of a facelift will last for about 15 years.
The facelift procedure is relatively simple. First, your surgeon will use a careful technique to make small facial incisions. While facelift incisions are customized for each patient case, they generally begin at the sideburn, extend in front of the ear, and end behind the ear in the hairline for a seamless finish. If necessary, an additional incision will be made below the chin. Once the facial muscles and tissues are rearranged and the extra skin is removed, you're left with a face that has literally been lifted, and with a reduction of pesky extra tissue and skin.
Will I look "fake" after my facelift procedure?
As with every procedure they perform, Dr. Houser and Dr. Kraft will spend plenty of time listening to the outcomes you desire most during your facelift consultation. With the facelift, some patients want subtle and natural-looking facial changes or a simple skin reduction, while others want dramatic results. Regardless of your preferences, Dr. Houser and Dr. Kraft will work with laser focus to ensure that you're satisfied with your facelift procedure. With lots of listening and information exchange, Dr. Houser and Dr. Kraft's goal is to create the best match between a patient's vision and their post-surgery facial results.
Facelift Recovery
Nearly every facelift procedure is performed under twilight sedation, which allows for faster recovery with a reduction in pain, postoperative nausea, and vomiting. Every individual's recovery time is unique, but most patients recuperate from a facelift in about two weeks. The full effects of the facelift surgery will be visible in about 1-2 months.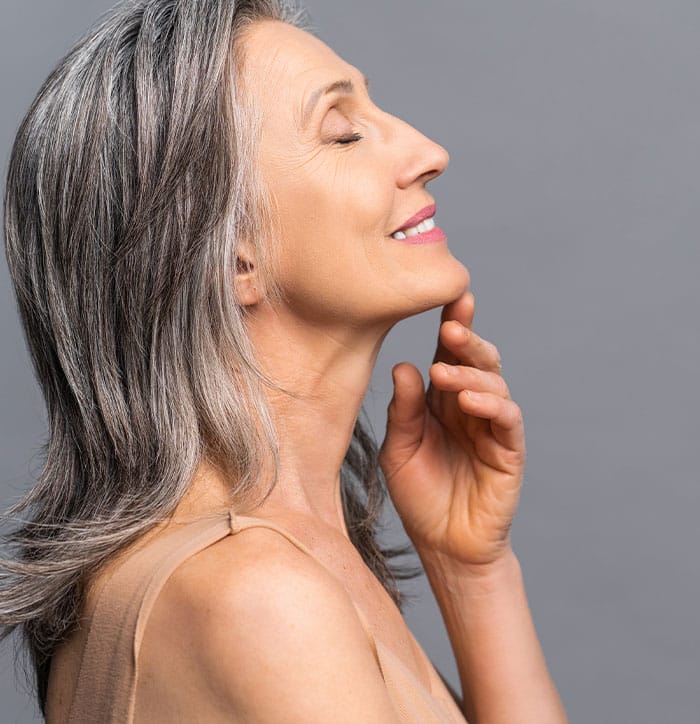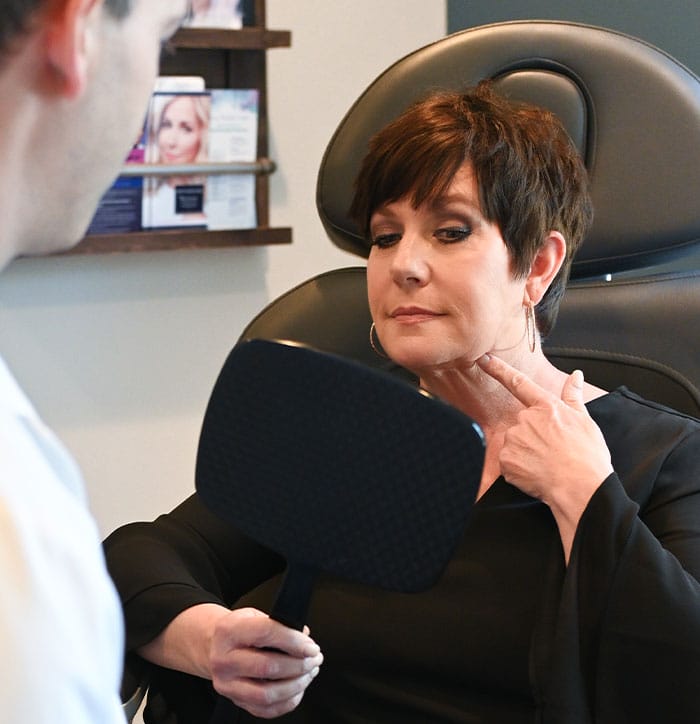 How to Choose the Right Plastic Surgeon for You
There are so many options to enhance your natural facial beauty that you may not know where to begin. Consider your end goals: are you hoping to make your entire face appear more youthful or just looking to lift your brows? Are you seeking a reduction in that stubborn skin beneath your chin or a more comprehensive facial reconstruction? Our surgeons and staff will work with you to ensure that you receive the care and facelift results you desire.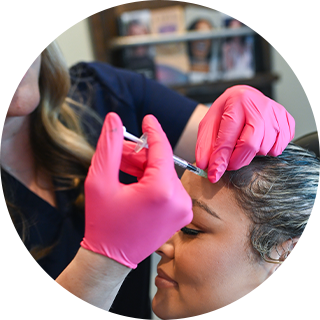 Facelifts, brow lifts, injectables, and more
If you're a patient looking for substantial facial changes, like a more defined jawline, more noticeable cheek contours, and smoother skin in the lower face and neck area, the full facelift might be right for you. Patients can combine a brow lift with the facelift or have it administered separately to create a change in the upper face, across the forehead, and between the brows. If you're not interested in facelift surgery, our wide range of injectable options to remove facial wrinkles and smooth skin may be just what you're looking for.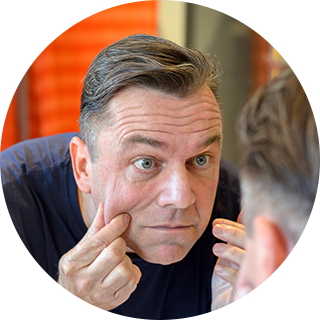 Why choose a facelift?
Men and women choose to undergo facelifts because they produce much more noticeable facial results than our other procedures and last longer than injectables. However, if you're not ready for the full facelift surgery, you can also select the mini facelift procedure. There's no need to decide right now—feel free to schedule a consultation with Dr. Houser or Dr. Kraft at our Columbus, Ohio office to determine the best options to create the facelift look you're seeking.
The Mini Facelift Procedure
If you're just starting to notice early facial signs of aging or if you have a thinner face with less overall skin tissue, you may benefit most from a mini facelift. Patients love this procedure because it takes less time to perform and they often experience less pain and a quicker recovery than with facelift surgery
A Less Invasive Facelift: What to Know
The mini facelift is great for men and women who want to minimize downtime after facelift surgery. It's literally the mini version of a facelift, so it works to repair drooping soft tissues and loosening skin in the face and neck. By focusing just on the skin in the lower face and neck areas, the mini facelift is less invasive than the facelift.
Facelift vs. Mini Facelift: What's the difference?
While it can take a few months to recover from a facelift, patients who receive a mini facelift may only need a few weeks of downtime before returning to their day-to-day activities. Your skin will look revived and youthful without the complete facial reconstruction of the facelift. The mini facelift is great for younger patients with early signs of facial sagging in their skin and neck or for those who don't want to commit to the facelift.
Personalized facial plastics
Whether you select a facelift, mini facelift, or injectables, our surgeons will design your treatment to accommodate your desires. They listen to and work with patients to ensure that each individual leaves the operating room with a smile on their newly lifted face. Contact our Columbus office and schedule a consultation to learn more about our facelift offerings.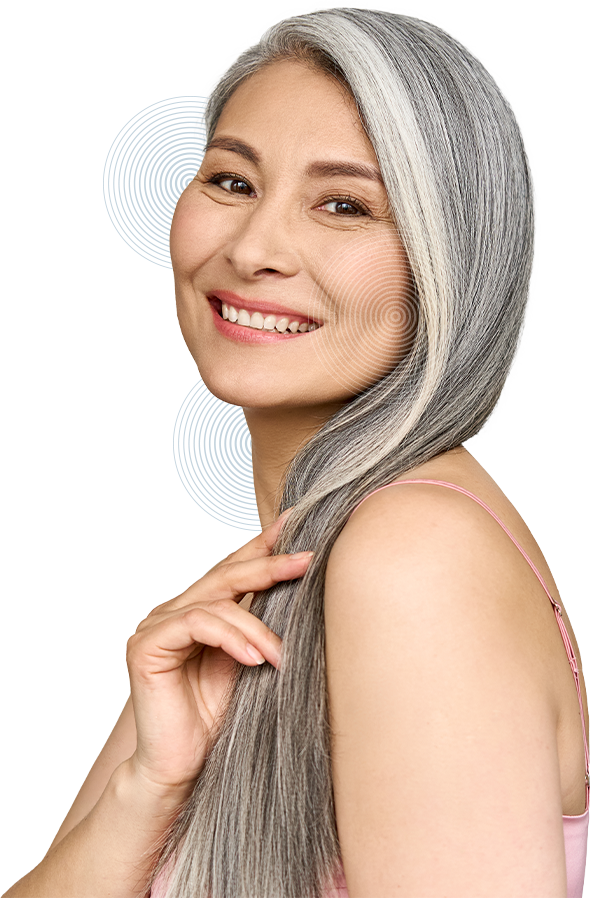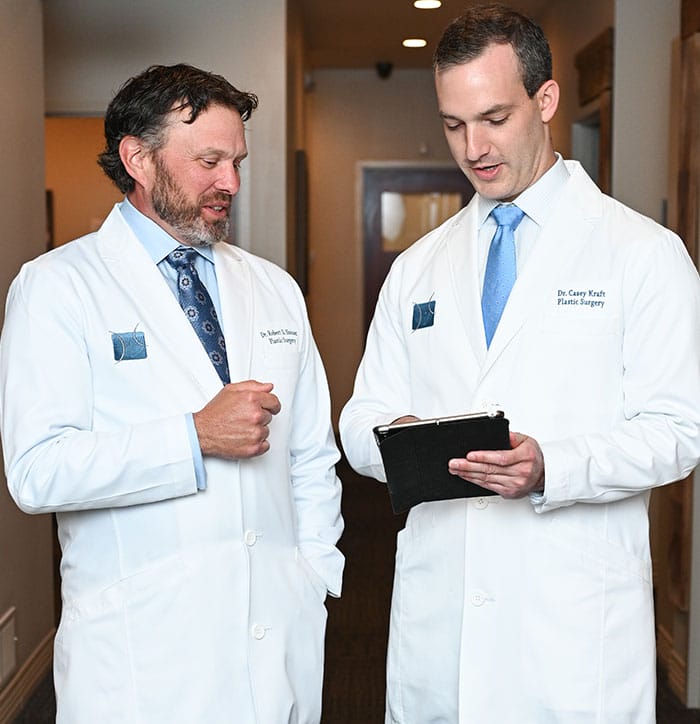 Columbus Chooses Dr. Houser and Dr. Kraft
Year after year, Dr. Houser and Dr. Kraft provide award-winning facelift services to every patient they see. Their reputation reaches beyond Columbus, Ohio, with patients visiting from out of state every year.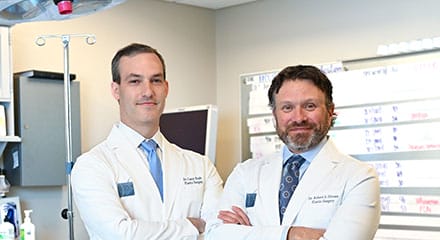 Our Plastic Surgeons
Dr. Houser and Dr. Kraft are known for providing remarkably natural facelift results to patients in the Columbus area. They use a team-focused approach to give patients the best outcomes possible for their unique body and specific goals. Our doctors will work with you during your consultation to ensure that you receive the care you deserve.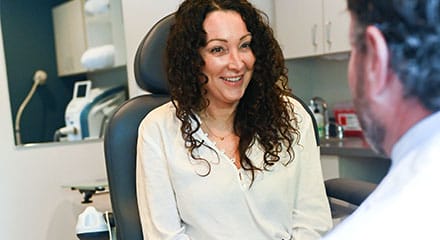 Facelift Expertise
Dr. Houser and Dr. Kraft make sure that patients understand all their options, the advantages and disadvantages of each, and what to expect after their procedure. Our surgeons have refined every technique they use to give patients facelift results that they love.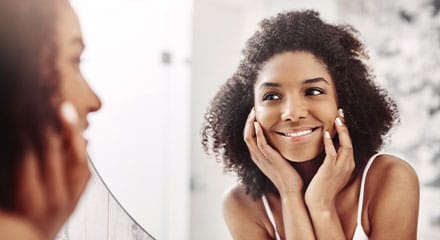 Facelift Quality You Can Trust
Dr. Houser and Dr. Kraft are recognized not only for their outstanding skills, but also for the compassionate way in which they work with each patient. During every consultation and procedure, our doctors listen carefully to patients and provide honest feedback about the most realistic, safe, and effective options to produce incredible facelift results.
A facelift you love, right in Columbus, Ohio
We are proud to be an accredited surgical facility through the American Association for Accreditation of Ambulatory Surgery Facilities, a status that can only be accomplished by providing the highest level of patient care, safety, cleanliness, and emergency response procedures. From facelift consultation to recovery, you'll feel supported and well cared for. Look no further for first-rate facial plastic surgery in your area.
Inspiring Confidence; Enhancing Beauty
That's our mission at Cosmetic & Plastic Surgery of Columbus, Inc. because your care is our top priority. Call our office today to schedule a facelift consultation with Dr. Houser or Dr. Kraft, and find out how to create the best reflection of your true self!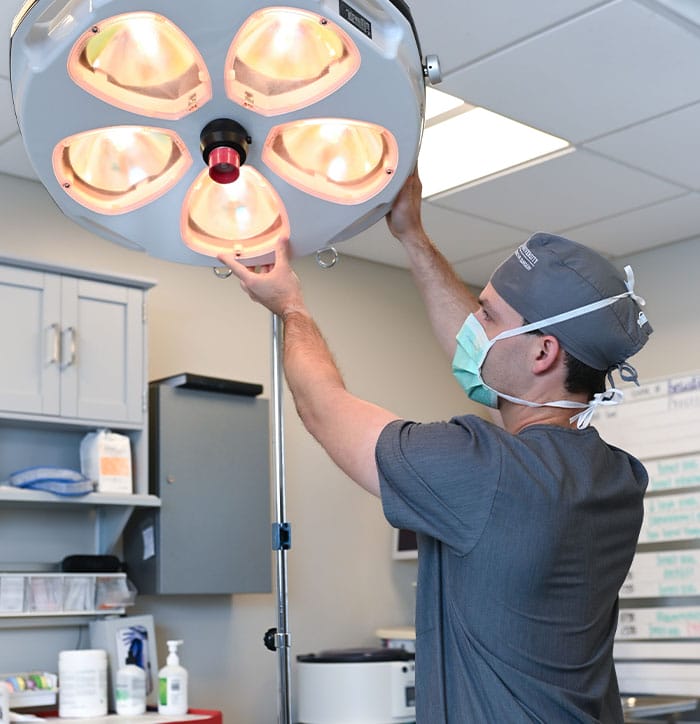 Dr Houser is the best cosmetic surgeon in the area he is caring and very funny he has turned back time for me!!! I recommend him to everyone who wants to know my secret!
Trish U.

Dr. Kraft made me feel comfortable and well taken care of! I loved the results and will definitely come back for any future needs. He's the best!
Melissa A.

Dr Houser was incredible. He made me feel comfortable, addressed all of my concerns, and was focused on a beautiful outcome not just a surgery!
Jennifer H.