Get Your Summer Glow Without Sustaining Sun Damage!
As we all know, the COVID-19 pandemic has markedly altered many aspects of our lives. And even if social distancing has canceled your summer plans, maintaining proper skincare habits can help make each of your summer days a little more beautiful—while keeping you healthy. We've put together everything you need to know about protecting your skin and helping it glow all summer long!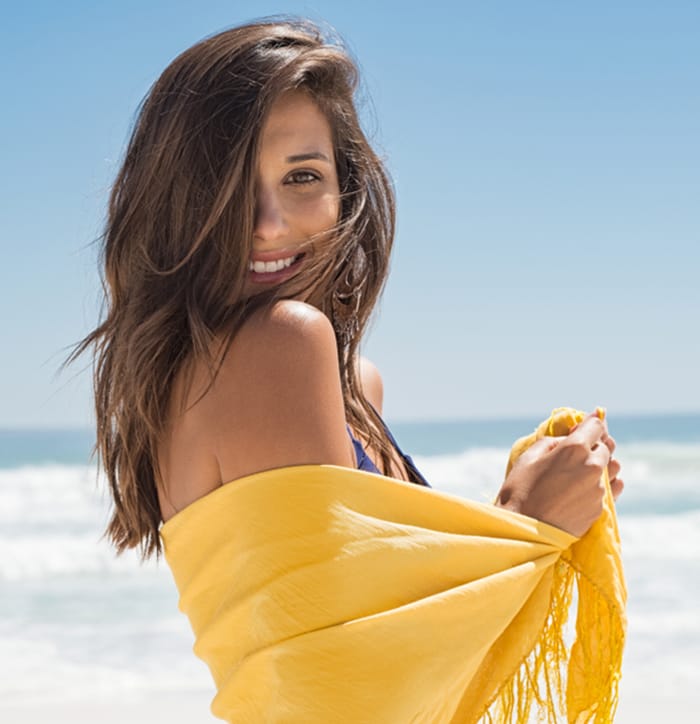 Protect your skin from UV rays
It can be easy to forget to apply skin protection, especially when you're staying at home. However, UV rays can harm your skin while you're at home, outside, or even in the car, making proper skincare habits (like applying daily SPF) essential during sunny, summer months.
The two main types of UV rays that damage skin are UVA and UVB rays. UVB rays are the most dangerous, leading to the highest rates of skin cancer. UVA rays are also harmful to the skin, but they are mostly associated with signs of premature aging—like developing wrinkles. Unfortunately, even with the risks posed by UV rays, people don't know how to choose proper sunscreen for daily wear, or they don't wear it at all. When choosing a sunscreen, be sure to select an option that is water resistant and broad spectrum, which means that it protects against both UVA and UVB rays.
If you are looking to incorporate a high-quality, broad-spectrum SPF into your skincare routine but don't know which to choose, we have you covered! We are proud to offer Elta MD Broad Spectrum products, a sure-fire and proven way to protect your skin from damaging UV rays.
Help your skin glow!
Fortunately, if you have already sustained damage from UV rays over the years, there are several clinical treatments available such as intense pulsed light (IPL) treatment and chemical peels that can give you back a healthy glow, while smoothing and rejuvenating your damaged skin.
Like any other organ, your skin requires healthy living habits and consistent care. Simple things like staying hydrated, getting sufficient sleep, and de-stressing are other easy ways to prioritize your skin's health. It's amazing how living a healthy lifestyle can really help you achieve that desired summer glow!
Contact us to book your appointment.
Ready to get your healthiest skin? Don't wait! Call Cosmetic & Plastic Surgery of Columbus at 614-890-5565 and do your skin a favor. Help us take care of your skin today; thank us later!